At the outset I would like to Thank Master Xiao Hongchi & his team for spreading this powerful system. 
I am sending my photos the way in which I practice La Jin. I know it is not the perfect pose but as I do not have proper lajin table I have made this temporary arrangement. I will be soon making a special La Jin Bench.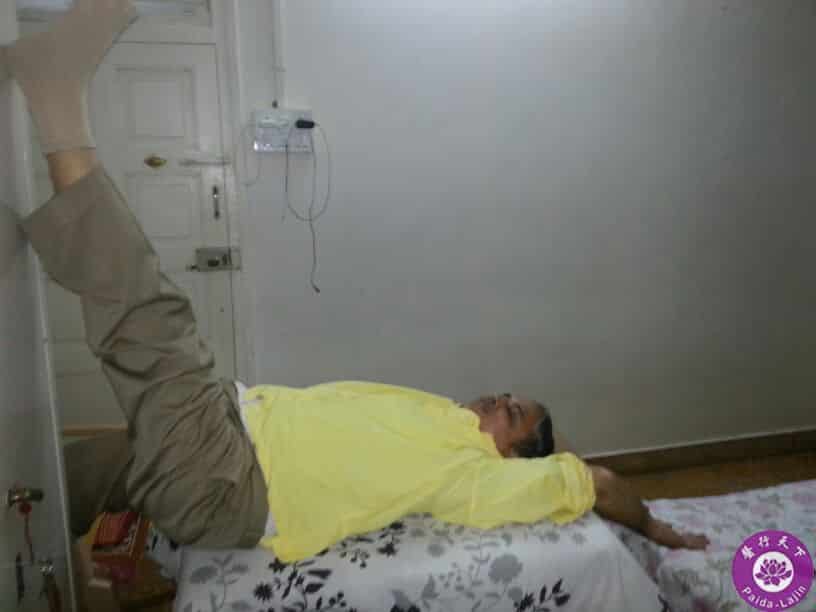 At present I practice Lajin 25 mins with each leg either in the morning or evening & one time I practice lying on the bed with both legs raised in "V" pose for 30 -35 mins, Plus I do daily Paida for about one hour. I started with 10 mins on 22nd August '13 & gradually increased to 25 mins. In between when the pain is more I move my arms & legs up & down 10-20 times without getting up & again continue. On a holiday I do the practice for 3 times a day.
The stiffness is gradually reducing though still there is lots of stiffness. One thing I wanted to share is that around 4-5 weeks before my BP was around 150/100 even though I was taking High BP medicine called Nebicard H ( Nebivilol 5mg & Hydrochlorthiazide). I was planning to meet my Cardiologist for his advice & he would have probably given me stronger dose. But when I read about Lajin Paida I was very impressed & I decided that I will consult the Doctor only after I see the results of my practice of La Jin. I was monitoring my BP & was finding gradual improvement & last night when I checked up it was 120/80. I was really thrilled.
Now after discussing with Mr Parag I will gradually reduce my intake of the HBP medicine till I become totally free from all medicines.Pl let me know whether what I am doing is correct or needs some improvement.
I have read about acupressure & meridians & I am really very much fascinated by the scientific basis of Paida – La Jin system. IT IS REALLY THE ULTIMATE CURE ALL FOR ALL PRESENT & FUTURE HUMAN AILMENTS.THIS IS WHAT I FEEL.
I have shared the PDF & PPT of Paida Lajin with many known persons & am following up & encouraging them to practice it as it is so very simple & effective.
I fully agree with you Mr Samel that Master Hongchi Xiao has made a tremendous contribution to the Humanity by revealing & popularizing this Sacred Healing Science of Paida – La Jin.  As time passes & as more & more people realise the simplicity & effectiveness of this method the humanity will always remain indebted to him for this contribution. That too it is free of cost without any side effects & an opportunity for the Humanity to enjoy a Disease Free , Healthy & Balanced Life.
I Bow to Master Hongchi Xiao & All his dedicated team members & practioner, supporters for spreading this POWERFUL SYSTEM OF' PAIDA – LA-JIN' TO THE HUMANITY.
I Wish a Very Happy & Joyous Mid Autumn Festival to All – May it bring HARMONY, PEACE, JOY & ABUNDANCE TO ALL HUMANITY .
Dinesh Sharma
Sept. 20, 2013